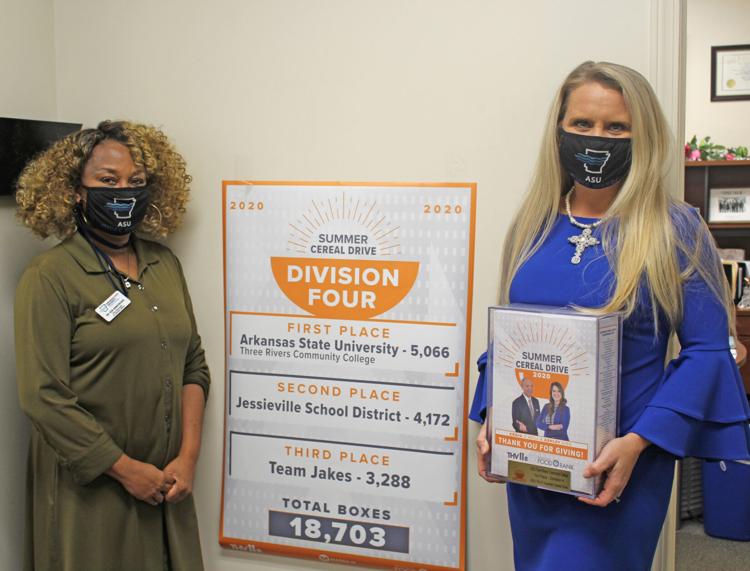 For the second year in a row, members of the Arkansas State University Three Rivers Community Team were awarded for their efforts during the 2020 Summer Cereal Drive. 
Angela Sexton, who leads the team, said members had a goal of raising 5,000 donations. Surpassing that, the team raised 5,066 donations and earned first place in Division 4. 
Sexton noted that several business, as well as, community members made the drive a success. 
Top donors included Teeter Chevrolet, West Fraser, ACME Brick, Thompson Trucking, Brynn Hobbs State Farm, Arkansas Getting Everyone Outside and ARAUCO. 
She also express her appreciation for all of the volunteers that assisted during the drive. 
"We helped thousands of Arkansas children and families," Sexton said. 
Initially the COVID-19 pandemic affected the amount of donations collected, but during the final weeks of the drive, donations came in quickly. 
During this difficult time for many people, Sexton said she was shocked at how willing people were to give back. 
"We live in a community that has a passion for giving," Sexton said. 
With the help of the Arkansas Foodbank, all of the items donated during the drive will benefit families living in central Arkansas. ASUTR students can also receive donations through a food pantry located on campus, Sexton said. 
 Almost 24 percent of children in Arkansas have limited access to adequate food and Arkansas ranks second in the nation for very low food security, according to the foodbank.
Each dollar raised is equal to one box of cereal, she said. 
Sexton is already looking forward to next year's drive.
"ASUTR appreciates the community's continued support in this campaign and we hope to collect more and more each year," Sexton said. 
She plans to start collecting donations in January and hopes to be able to host fun activities during the drive to encourage more people to donate.
Anyone who would like to participate in the drive in 2021 is encouraged to contact Sexton at asexton@asutr.edu or by calling 501-332-0298.