Since March, there have been more than 2,000 COVID-19 cases reported in Hot Spring County. 
Of the 2,052 cumulative cases, 2,040 are confirmed and 12 are probable. There are currently 117 active cases in the county with 116 being confirmed and one probable. 
More than 1,906 recoveries have been reported with 1,897 being confirmed and nine probable. 
Sadly, there have been 29 death reported in the county as a result of COVID-19. Twenty-seven are confirmed and two remain probable.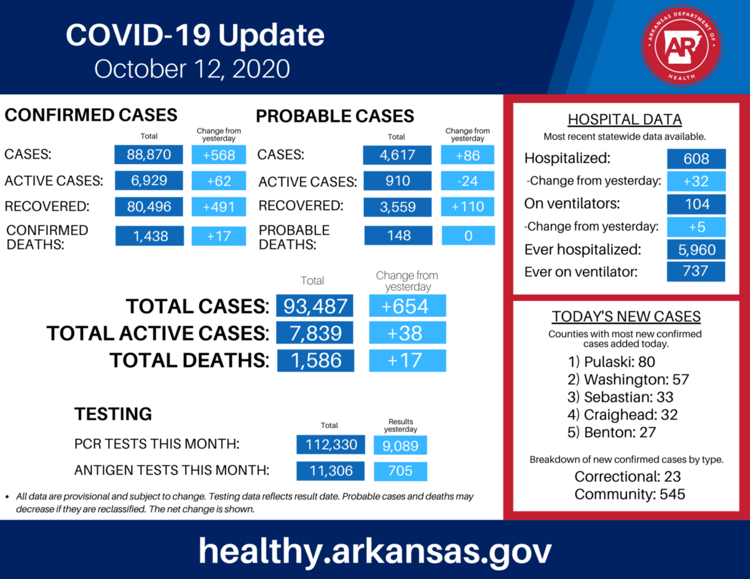 In the past 24 hours, there was an additional 568 confirmed COVID-19 cases reported across the state. 
Twenty-three of those cases are in correctional facilities and 545 are in the community. 
Counties with the most confirmed cases include Pulaski with 80, Washington with 57, Sebastian with 33, Craighead with 32 and Benton with 27, according to the Arkansas Department of Health daily update. 
The total number of cases statewide is at 93,487 with 7,839 being reported as active. 
The total deaths is 1,586, an increase of 17 in the past 24 hours. 
The number of people hospitalized increased by 32 in the past 24 hours being the total to 608 people. 
"Our hospitalizations continue to be at a high level. This put stress on our healthcare workers. While we have sufficient bed capacity in our hospitals, this does strain the system. This is why we need to work together to reduce our cases and reduce our hospitalizations," said Gov. Asa Hutchinson.