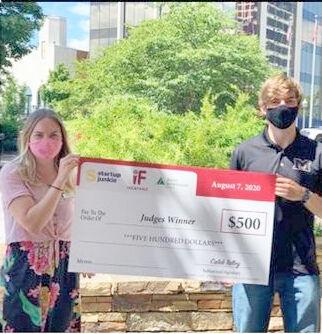 Junior Achievement of Arkansas took its annual Legacy Awards Luncheon virtual, livestreaming the event Tuesday. In addition to recognizing students, individuals, the Legacy Awards Luncheon serves as Junior Achievement's largest fundraiser for the year. 
The event will be emceed by AY Media editor-at-large Lisa Gibson Fischer, and AY Media and Arkansas Money & Politics publisher Heather Baker will serve as the honorary chair.
Junior Achievement helps prepare students with practical financial and career skills and widening their opportunities after high school. Junior Achievement serves as a way for the community to partner with educators to inspire students (kindergarten through high school) to complete their formal education and gain the tools necessary to achieve their hopes and dreams.  
During the event, Magnet Cove High School student, Jace Beckwith along with students from the following schools; MLK Elementary (Little Rock), Parkview High School (Little Rock) and Southwest High School (Little Rock) participated and shared how the Junior Achievement program impacted their lives.  
Beckwith participated in JA's Ideafame Virtual Pitch Competition and won first place and received $500. 
Sofia Overton, CEO of Wise Pocket Products and 2020 ABC Shark Tank winner  was a honorary judge for the event.  
"Our students are ultimately the future of our companies, state and economy. The partnership of the business and education communities is powerful when we are preparing our youth for their future" said, Tonya Villines, president and CEO of Junior Achievement of Arkansas. 
JA also honored a series of prominent businesses and community leaders during the luncheon. Arkansas Attorney General Leslie Rutledge and AT&T Arkansas President Ronnie Dedman were recognized as the 2020 "Legacy Award Honorees." 
The "Nelson Summit Business Honoree" was Bank of America, and the inaugural "Educator Honoree" was Little Rock School District Superintendent Mike Poore. 
All the support the organization receives today is inspiring tomorrows - through work readiness, entrepreneurship, and financial literacy education, according to Villines. 
Junior Achievement of Arkansas is the state's only organization dedicated to giving young people the knowledge and skills they need to own their economic success, plan for their future, and make smart academic and economic choices. 
JA programs are delivered by corporate and community volunteers, and provide relevant, hands-on experiences that give students from kindergarten through high school knowledge and skills in financial literacy, work readiness and entrepreneurship. JA currently reaches more than 13,000 students per year across the Arkansas.