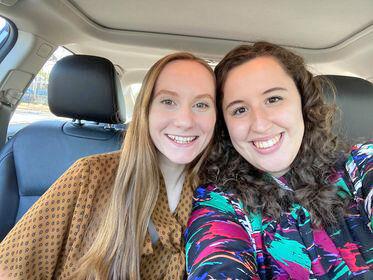 Two Malvern graduates are looking toward the future despite many unknowns surrounding the COVID-19 pandemic. 
Anne Paul and Cagney Kilgroe who have been friends since they were in ninth grade are now first year law students at the UA Little Rock William H. Bowen School of Law. 
Both students were awarded William H. Bowen Scholarship which are full tuition awards. According to UA Little Rock, these scholarships are extremely competitive. 
"Recipients have exceptional academic credentials, strong LSAT score and demonstrated leadership qualities. Bowen Scholars will exhibit the abilities to excel in the classroom while also taking active roles as leaders within the law school community," according to the university.  
Paul, who is the daughter of Stephen and Carolyn Paul,  said she enjoys the challenge and logic of law. She said being a lawyer also gives her power to help people. 
"You will have this power and this tool to make changes," she said. 
Kilgroe, who is the daughter of Pam and Sam Kilgroe, said she has always enjoyed debating and studying politics. While in college at the University of Central Arkansas, she fell in love with studying government and public policy. 
Law school in the middle of a global pandemic looks a little different than normal since most of the classes are conducting virtual. 
Paul said that because the classes are online it can be easy to get distracted, but she is dedicated to taking her schooling seriously.  
Kilgroe said she is trying to focus on the positives. 
"I think the unique challenges our generation is facing will make us more resilient in our future endeavors. Just living everyday life is tough right now, but that means we will be no stranger to adversity in the future and that gives me hope," she said. 
Both students said they are still unsure where the future may lead them. 
Kilgroe said she is looking forward to taking more classes and getting exposed to new areas of law but feels she wants to work in the public sector in Arkansas. 
"I know that is where my heart is. No matter where my career takes me, however, I hope to keep those values in mind and always remember fondly where I came from," Kilgroe said. 
Paul said for the past two years she has enjoyed working at a law firm that is specialized in labor and employment law. She is unsure if she will return to that firm after graduation or open her own firm like her cousin Billy Jack Gibson. 
With about 10,000 students and 100 programs, UA Little Rock offers learning, research, service, social and career opportunities that can only be found at a metropolitan university located in Arkansas' capital city, according to a news release.
The school of law which was established in 1975 by the Arkansas General Assembly is accredited by the American Bar Association and is a member of the Association of American Law.